I thought that it was time to really introduce myself and tell a bit about where I live. So here goes…….
     Welcome to Los Osos, California, population is supposedly 15,000, but I have never seen that many here! We are right on the coast, smack dab between Los Angeles and San Francisco.  (see that red dot? There, but we aren't that big)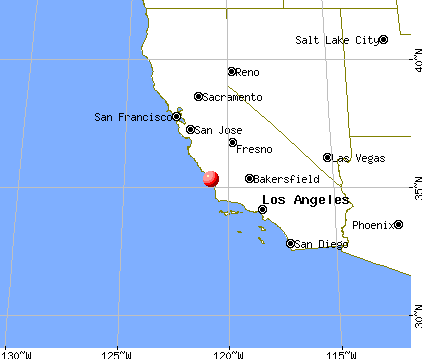 Our temperature averages 65 to 70 degrees year round, so when I read other bloggers saying that it is too hot or complaining of snow, I try to hold back my giggles.
     Here is our little slice of heaven that we call Liberty Ranch.
     I know, absolutely no curb appeal when we moved in. I must add now, this is a rental, so any curb appeal that you see in posts in the future will be of the portable, take it with me, because I paid for it type.
     Let me go outside and see if I can take a more current picture….be right back…
     Alright, not a good plan. The sun is shining right into the lens, but Murphy Grace decided that he was all of the curb appeal that we needed. I kind of agree.
     Anywho, we moved into this house in March and have been doing this and that to make it our own ever since. We had to slow down a bit when I got sick in April, but we are getting back up to speed now. The house has some challenges……like it hasn't been touched since it was built in 1977. The property is an acre of sand, weeds, and overgrown shrubs/trees. The layout of the house is a dream though, one story, huge open floor plan, three bedrooms, two baths. (I hate sharing bathrooms, I love Mr. M, but I don't want to share his bathroom)
     So, that is my teaser for now. I could go on and will in the future, but I have to be getting ready for my Hebrew National BBQ on Saturday.